Looking for adventure? The Vaison Ventoux region offers a wealth of opportunities for outdoor sports. The exceptional natural sites between Mont Ventoux and the Dentelles de Montmirail make it an ideal destination for all thrill-seekers.
Top 3 activities to add a little adrenalin to your vacation.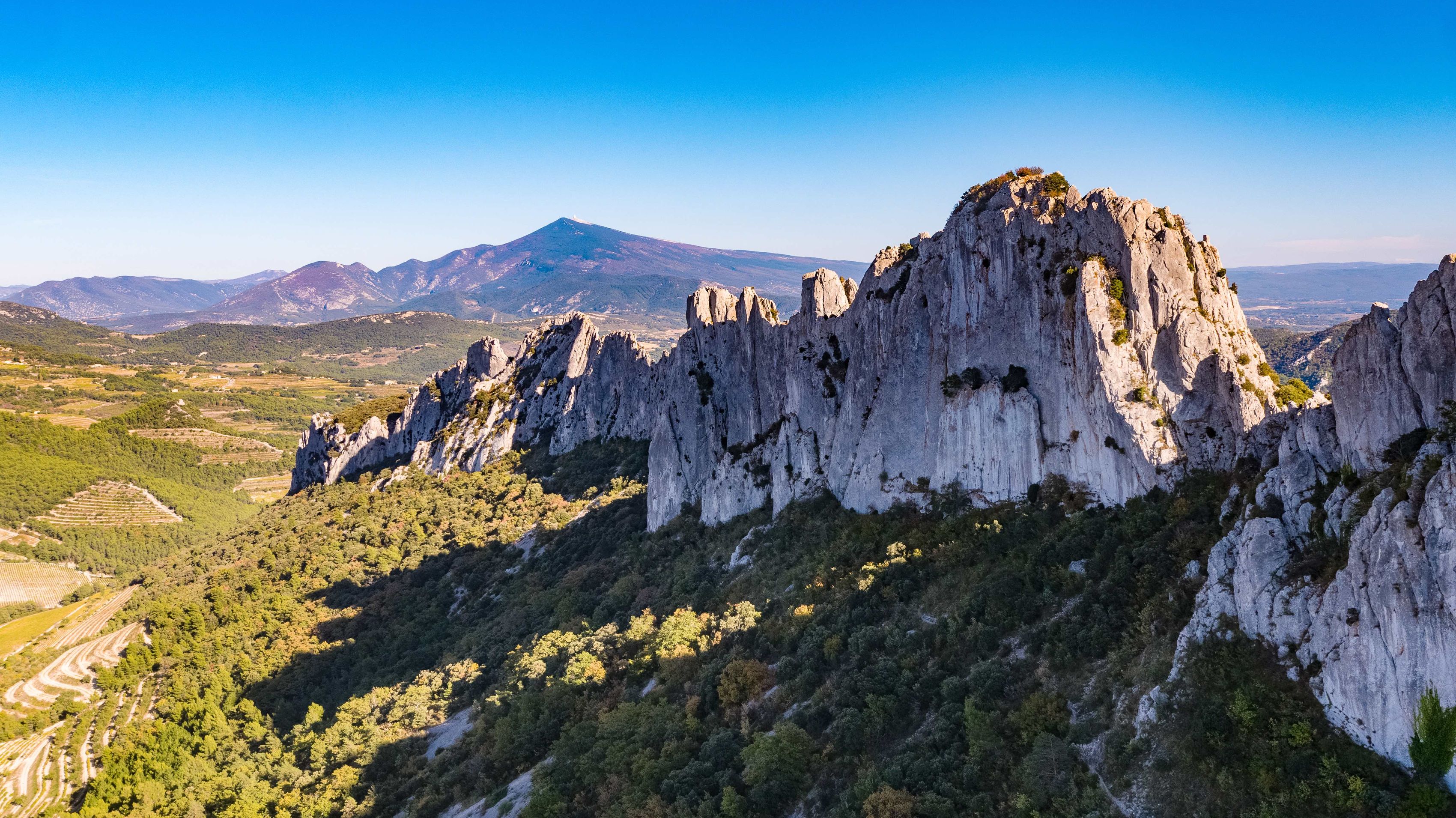 Among the many ways of discovering the region, there's one that's particularly well-suited to taking in every scenery, every fragrance and every unspoilt atmosphere: cycling. More than just a sport, it's an eco-responsible way of getting around the region that's perfectly recommended if you want to experience the soul of our villages and the beauty of the surrounding countryside! Whether for relaxation, leisure or sporting performance, whether on a road bike, mountain bike or gravel, in Vaison Ventoux Provence, cycling is an addiction!
Of course, for cyclosportifs, the ascent of Mont Ventoux to its summit is a must if you want to ride in the wheels of the Tour de France riders. There are even some whose challenge is to complete a triple ascent from its 3 sides in the same day: via Malaucène, Bédoin and Sault, 137 km for 4250 m of positive vertical drop. They are known as the "Cinglés du Ventoux".
But climbing the Géant de Provence is not something you can improvise. To reach the summit and make the most of this extraordinary experience, it's best to be at the top of your game:
Prepare for a difficult event by being in perfect physical condition, by training, by having a healthy lifestyle and by being equipped with a suitable road bike.

On the big day, check the weather forecast, warm up and remember to stay hydrated during the effort.

Remain vigilant and cautious, respecting the rules of the road and always keep to the right, and control your speed when descending.
And don't forget to protect the Ventoux by not littering.
Gravel: a
new form of travel and adventure.
The village of Rasteau has just been named a "French reference site for Gravel biking" by the Departmental Council, with its reception center for groups and the creation of 3 signposted 150 km itineraries for this sporty and versatile cycling discipline, a mix between racing bike, mountain bike and touring bike.
La Provence à vélo
offers free, signposted tours for everyone, combining the pleasure of cycling with the discovery of Provençal villages. They are available free of charge from the Tourist Office or can be downloaded from https://www.pr
ovence-a-velo.fr/.
Zoom sur les grands rendez-vous cyclistes
: Au pied du Ventoux et des Dentelles de Montmirail, le territoire attire les plus grandes compétitions cyclistes.
Au printemps (11 juin 2023), l'élite se retrouve pour la course cycliste professionnelle "

Mont Ventoux Dénivelés Challenge

"

et des milliers de cyclistes amateurs venus du monde entier se retrouvent pour la grande cyclo sportive La GF Mont Ventoux.

À l'automne (du 30 septembre au 1er octobre), les nouveaux amateurs de vélo Gravel participent au Ventoux Gravel Classic et les fous de VTT s'affrontent sur le Ventoux Xtrème MTB.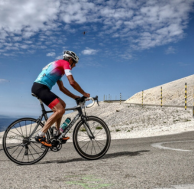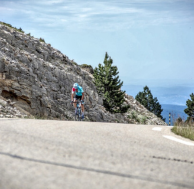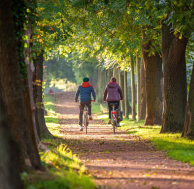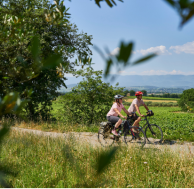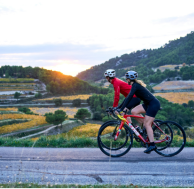 The Vaison Ventoux region offers a huge number of trails, GRs, marked and unmarked circuits for unique experiences at every level. There's a challenge for everyone, but the most important thing is to enjoy it. Cross sublime landscapes, accompanied or not by guides who know the best spots.
Theme trails, the Toulourenc valley, winegrowing villages, Templar and medieval villages allow you to explore an entire region, discovering unspoilt countryside and superb panoramic views of Mont Ventoux, the Dentelles de Montmirail massif and the Baronnies pre-Alps.
Admire, feel and experience an authentic part of Provence, with its remarkable biodiversity.
Zoom sur les randos secours
Quoi de plus réjouissant qu'une randonnée en famille dans des paysages merveilleux ? Mais parfois un incident arrive et gâche tout… Avec Rando' Secours, votre randonnée se prépare à toutes les éventualités.
Optimisez la préparation de votre sac à dos. Maîtrisez différentes techniques d'orientation. Apprenez ensemble à vous signaler, organiser, sécuriser un campement de fortune et prodiguer les premiers gestes de secourisme. Un moment à partager en famille ou entre amis pour vous rassurer et partir sereins dans vos plus belles randonnées !
Formation théorique en famille ou entre amis, sous forme d'ateliers et de jeux :
Préparer son sac à dos : check-list

Se mettre à l'abri (trouver ou construire un abri)

Garder la chaleur (faire du feu, préserver sa chaleur corporelle)

Gérer son eau et sa nourriture

Blessure : diagnostic et premiers soins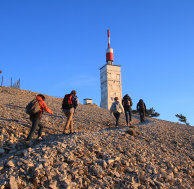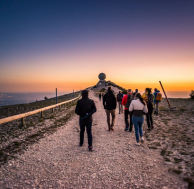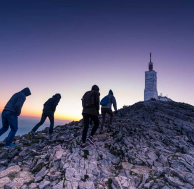 The region offers a number of attractive climbing spots for both novice and experienced climbers.
The famous Dentelles de Montmirail offer routes for all levels, from beginne
rs with school rock to the most experienced. The numerous routes offer magnificent scenery all around the Dentelles Sarrasines. Local guides can introduce you to these routes.
The temple of free climbing is in Saint-Léger-du-Ventoux
The Baleine cliff in the Vallée du Toulourenc is world-famous; the whole climbing world meets here. The site boasts some 600 climbing routes, most of them of the highest level. You can climb all year round in the shadow of the Ventoux.
(On sale at the Vaison-la-Romaine Tourist Office)
In Entrechaux, on the way to Les 3 Rivières, you'll find almost a kilometer of equip
ped rock for free climbing.
(On sale at the Vaison-la-Romaine Tourist Office)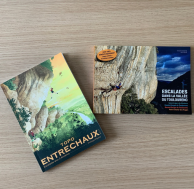 Topo d'escalade en vente à l'office de tourisme de Vaison-la-Romaine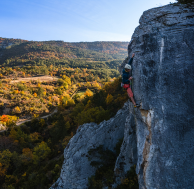 Escalade - PNR de Baronnies - YpovAgency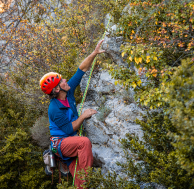 Escalade - PNR de Baronnies - YpovAgency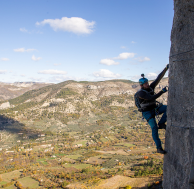 Escalade - PNR de Baronnies - YpovAgency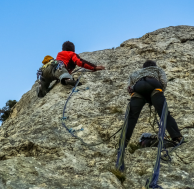 Escalade dans les Dentelles de Montmirail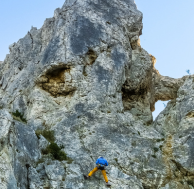 Escalade dans les Dentelles de Montmirail