Discover Art with a capital A. A veritable land of inspiration, the region is brimming with artistic treasures that will amaze art lovers of all kinds. Get ready for an unforgettable cultural immersion!
In Vaison Ventoux Provence, there are two ways to experience art: in the city or in nature.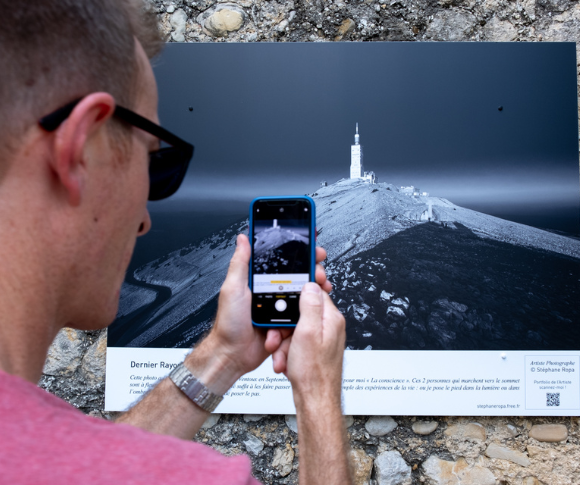 Exposition photographie dans les rues de Rasteau
Vaison Ventoux Provence, a region rich in history and culture, is also a veritable showcase for urban art! In the heart of its picturesque alleyways, art flourishes and displays itself to the amazed gaze of locals and visitors alike. From colorful murals to majestic sculptures, discover how art blends harmoniously into the urban fabric of our territory.
The "Autre ville" contemporary ar
t festival
invites you to stroll through the streets of Vaison-la-Romaine and admire the many open-air exhibitions. Local and international artists take over the medieval town's public spaces, private gardens, small squares and ancient sites, creating an open-air gallery. All summer long, let yourself be inspired by the sculptures, art installations and murals that bring urban space to life.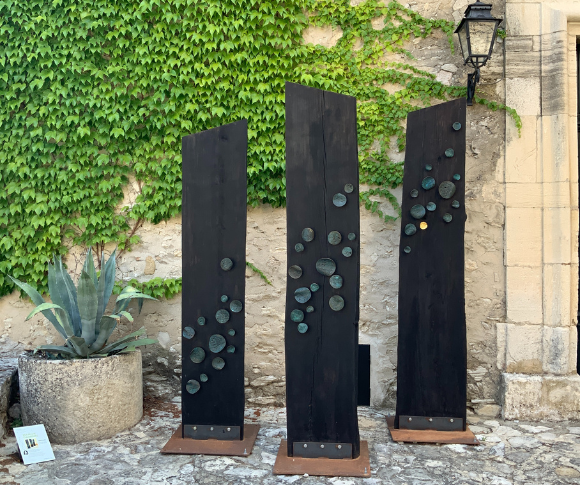 Parcours Monumentales - Autre Ville - Cité médiévale de Vaison-la-Romaine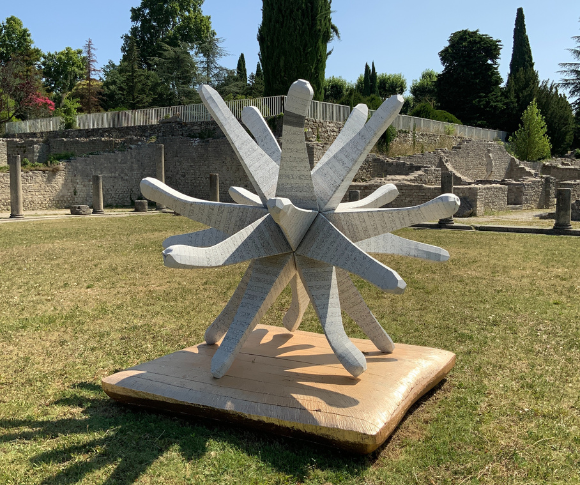 Parcours Monumentales - Autre Ville - Site antique de La Villasse à Vaison-la-Romaine
Artistic stained glass windows at Sainte-Marie-de-l'Assomption c

hurch
What a pleasure to admire these masterpieces of contemporary art, installed since 2018 in the medieval town's fabulous church! International artist Kim Een Joong is behind these 19 stained glass windows. An a
rchitectur
al treasure that never ceases to fascinate with its flamboyant colors. Each window is unique, and when the sun shines through them, they come to life, illuminating the interior of the church in a divine way.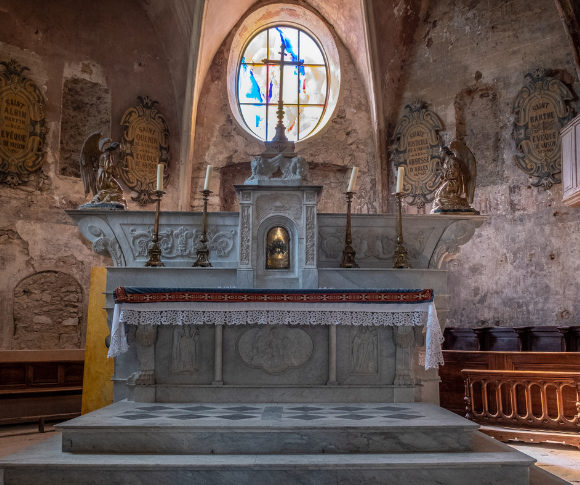 Vitraux de l'église cathédrale Sainte-Marie-de-l'Assomption - Haute Ville - Vaison-la-Romaine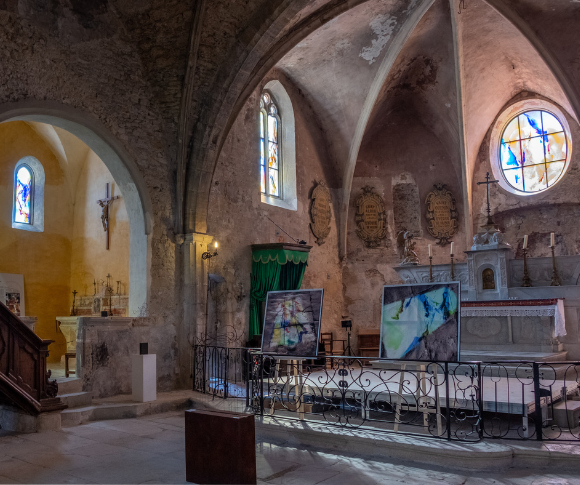 Vitraux de l'église cathédrale Sainte-Marie-de-l'Assomption - Haute Ville - Vaison-la-Romaine
Murals, a journey through time and imagination
Stroll through the streets of Vaison-la-Romaine, on t
he street art trail
, to be transported into the unique pictorial universe of our Vauclusian artists. Let yourself be surprised by the walls of this small Provencal town: along the stadium, in front of the art cinema Le Florian, on the façade of the former grain silo at Moulin de César, in avenue Jules Ferry, on cours Tauligan or at the health trail.
Other murals to discover in the villages of Rasteau and Sablet.
Art galleries and workshops
Along the way, meet passionate artists who will help you discover their world. Painters, sculptors, photographers, ceramists... a wealth of talent scattered through the narrow streets of the villages of Vaison Ventoux Provence. Push open the doors of their gallery or workshop and let yourself be carried away.
The "Itiné...rêves d'artistes" leaflet is available free of charge from the tourist offic
e, along with a discovery trail of Vai
son-la-Romaine's art galleries, and another art trail through the villages of Vaison Ventoux Provence in our leisure magazine.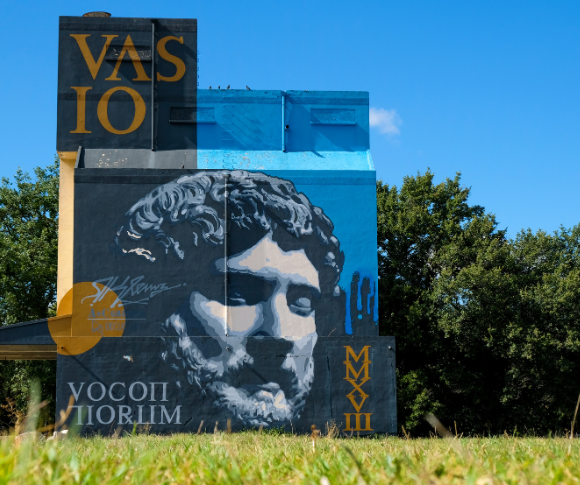 Fresque murale Empereur Hadrien - Moulin de César - Vaison-la-Romaine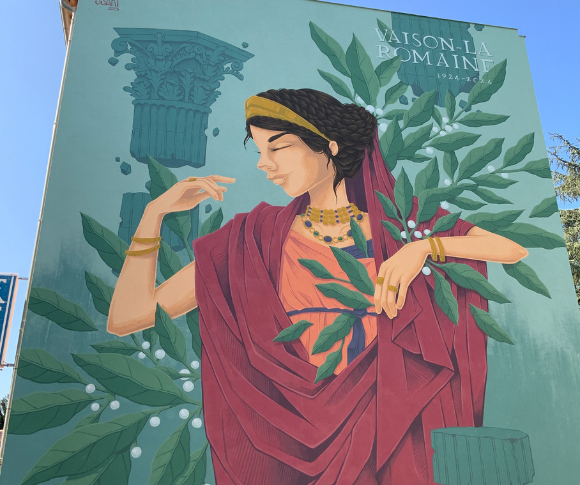 Fresque murale Sabine - Cours Taulignan - Vaison-la-Romaine
Nestled at the foot of Mont Ventoux, Vaison Ventoux is a region where art and nature intertwine in perfect harmony. Through enchanting landscapes and an atmosphere conducive to creativity, artists draw their inspiration from natural elements, creating an intimate bond between man and his environment.
Unexpected Land'Art in the Toulourenc Valley
In Vaison Ventoux, there are l
and art trails hidde
n away in the heart of the Ventoux forest.
It's incredible to find these extraordinary paths in such small villages! In Savoillans and Saint-Léger-du-Ventoux, at the foot of the mountain's northern slope, you'll find thes
e unexpected and astonishing ar
t trails, marked out by works and installations left like footprints by the artists. The works of art inhabit the site, forcing you to ask questions. The walk immerses you in the scents, colors and rustles of the undergrowth.
The imagination soars with suspended sails, blue trees, eyes that watch you, strange creatures, horns of plenty, gates or giant nests. Here, art gives you a different view of nature.
A bookshop in the heart of the fo

rest
It's a Jar
din Singulier th
at magnifies the
Esprit des Lieu
x at the foot of Mont Ventoux, in the pretty Toulourenc valley. A place of art and nature in Saint-Léger-du-Ventoux, it unfurls its themed family trails as well as a mountain itinerary, all under the protective shadow of the Ventoux. And in the former forester's house, a bookshop and publishing house open their doors to you. With the "Carnets du Ventoux" and "Ventoux Magazine" collections, books on Mediterranean flora and fauna, Provencal cuisine, the history of the Géant de Provence and the many small publishers on display, you'll learn to live and look at nature differently, with respect and eco-responsible curiosity. With treasure hunts for children, a place to relax and a place where sheep herds can be cleared, you can take the time to listen to nature with your family.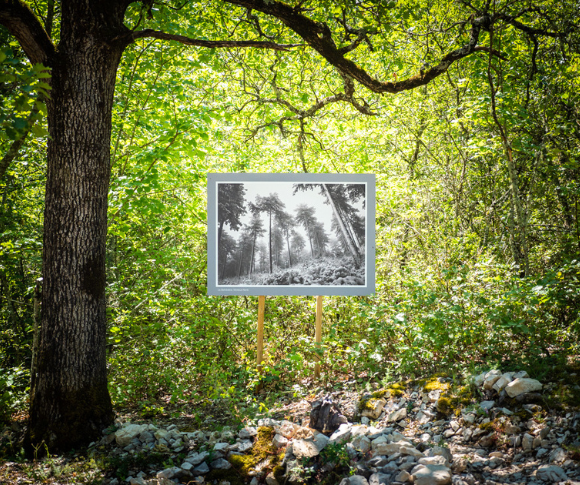 Exposition photographique dans le Jardin Singulier à Saint-Léger-du-Ventoux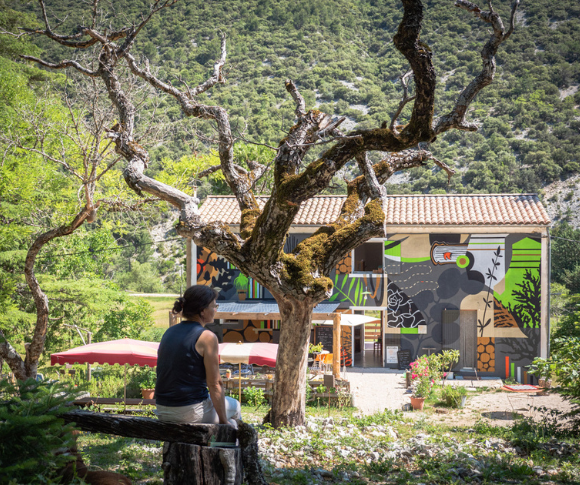 Jardin Singulier - Esprit des Lieux à Saint-Léger-du-Ventoux
A sculpture park at the Jardin des 9 Damoiselles
Designed by sculptor Serge Boyer, this poetic, philosophical and telluric garden is made up of 81 granite blocks
engraved with signs and texts in the
languages of the 9 European cities of culture. It was created after the 1992 floods. This contemporary development, bordered by a bamboo grove and the Ouvèze river, is located at the southern entrance to Vaison-la-Romaine. A site that invites you to daydream.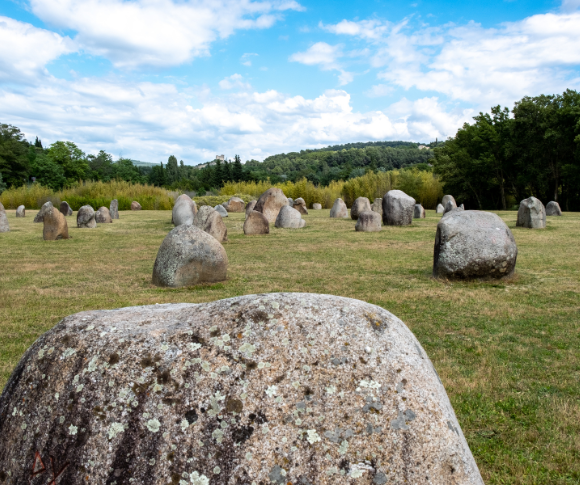 Jardin des 9 Damoiselles - Vaison-la-Romaine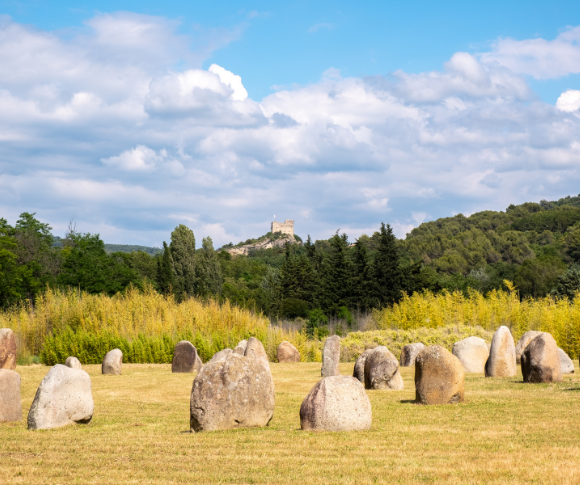 Jardin des 9 Damoiselles - Vaison-la-Romaine